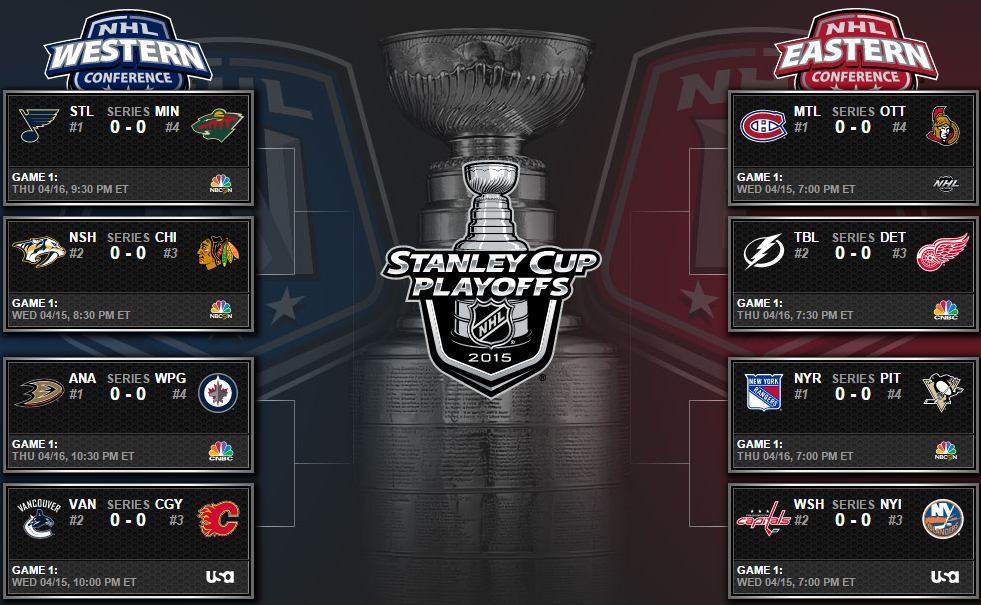 The matchups for the first round of the 2015 Stanley Cup playoffs are set and all of the action begins on Wed., April 15.
Here is the complete schedule for all eight first round series.
All times listed are ET and subject to change. * — if necessary. TBD — To be determined. Some games will be joined in progress.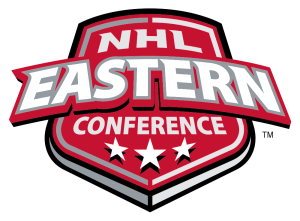 Montreal Canadiens vs. Ottawa Senators
Wednesday, 7 p.m. at Montreal; CBC, TVA Sports, NHL Network
Friday, 7 p.m. at Montreal; CBC, TVA Sports, CNBC
April 19, 7 p.m. at Ottawa; CBC, TVA Sports, NBCSN
April 22, 7 p.m. at Ottawa; CBC, TVA Sports, USA
*April 24, TBD at Montreal; CBC
*April 26, TBD at Ottawa; CBC
*April 28, TBD at Montreal; CBC
Tampa Bay Lightning vs. Detroit Red Wings
Thursday, 7:30 p.m. at Tampa Bay; CNBC, Sportsnet, TVA Sports
Saturday, 3 p.m. at Tampa Bay; NBC, CBC, TVA Sports
April 21, 7 p.m. at Detroit; NBCSN, Sportsnet, TVA Sports
April 23, 7 p.m. at Detroit; NBCSN, CBC, TVA Sports
*April 25, TBD at Tampa Bay; TBD
*April 27, TBD at Detroit, TBD
*April 29, TBD at Tampa Bay, TBD
New York Rangers vs. Pittsburgh Penguins
Thursday, 7 p.m. at Rangers; NBCSN, CBC, TVA Sports
Saturday, 8 p.m. at Rangers; NBC, CBC, TVA Sports
April 20, 7 p.m. at Pittsburgh; NBCSN, CBC, TVA Sports
April 22, 7 p.m. at Pittsburgh; NBCSN, SN 360, TVA Sports
*April 24, TBD at Rangers, TBD
*April 26, TBD at Pittsburgh, TBD
*April 28, TBD at Rangers, TBD
Washington Capitals vs. New York Islanders
Wednesday, 7 p.m. at Washington; USA, Sportsnet, TVA Sports
Friday, 7 p.m. at Washington; NBCSN, Sportsnet, TVA Sports
April 19, noon at Islanders; NBC, Sportsnet, TVA Sports
April 21, 7:30 p.m. at Islanders; USA, SN 360, TVA Sports
*April 23, TBD at Washington, TBD
*April 25, TBD at Islanders, TBD
*April 27, TBD at Washington, TBD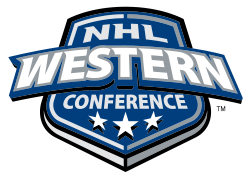 St. Louis Blues vs. Minnesota Wild
Thursday, 9:30 p.m. at St. Louis; NBCSN, SN 360, TVA Sports
Saturday, 3 p.m. at St. Louis; NBC, Sportsnet, TVA Sports
April 20, 8 p.m. at Minnesota; CNBC, SN1, TVA Sports
April 22, 9:30 p.m. at Minnesota; NBCSN, SN 360, TVA Sports
*April 24, TBD, at St. Louis, TBD
*April 26, TBD, at Minnesota, TBD
*April 29, TBD, at St. Louis, TBD
Nashville Predators vs. Chicago Blackhawks
Wednesday, 8:30 p.m. at Nashville; NBCSN, SN 360, TVA Sports
Friday, 9:30 p.m., at Nashville; NBCSN, Sportsnet, TVA Sports
April 19, 3 p.m. at Chicago; NBC, Sportsnet, TVA Sports
April 21, 9:30 p.m. at Chicago NBCSN, Sportsnet, TVA Sports
*April 23, TBD at Nashville, TBD
*April 25, TBD at Chicago, TBD
*April 27, TBD at Nashville, TBD
Anaheim Ducks vs. Winnipeg Jets
Thursday, 10:30 p.m. at Anaheim; CNBC, Sportsnet, TVA Sports
Saturday, 10:30 p.m. at Anaheim; NBCSN, Sportsnet, TVA Sports
April 20, 9 p.m. at Winnipeg; Sportsnet, TVA Sports, NBCSN
April 22, 9:30 p.m. at Winnipeg; Sportsnet, TVA Sports, USA
*April 24, TBD at Anaheim; Sportsnet
*April 26, TBD at Winnipeg; Sportsnet
*April 28, TBD at Anaheim; Sportsnet
Vancouver Canucks at Calgary Flames
Wednesday, 10 p.m. at Vancouver; CBC, TVA Sports, USA
April 17, 10 p.m. at Vancouver; CBC, TVA Sports, CNBC
April 19, 10 p.m. at Calgary; CBC, TVA Sports, NBCSN
April 21, 10 p.m. , at Calgary; CBC, TVA Sports, USA
*April 23, TBD at Vancouver; CBC
*April 25, TBD at Calgary; CBC
*April 27, TBD at Vancouver; CBC